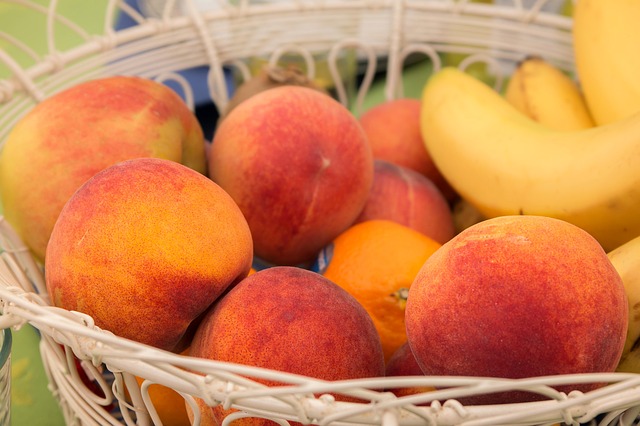 That's all, folks!
A great big thank you to all our customers across central and north east Wyoming! It was a joy to visit, share recipes, and revel in those unbeatable peaches and delicious produce with you.
We hope you all and your families have a safe and wonderful year until we see you again next season: July 2020.
--The Sherwoods
Glenrock, Wyo.
What makes Pat's Peaches 'n Produce so special?
1) There are about 10 different varieties of freestone peaches that ripen one after another over the 7-8 week period which is the "season." Our grower is a third-generation, Palisade orchardist who subsequently trained as an engineer. When he tired of working in his cubicle, he left it and took his engineering skills and early family training back to the orchards, supplemented it with the very best current practices, and now produces the best peach shippable. Each box of his peaches is even stamped with a number which indicates the variety and location of the tree on which those peaches grew! He guarantees his fruit to us, and we guarantee it to you. Come taste and see for yourself!
2) We bring you the best of all the fruit and vegetables available from the Western Slope of the Colorado Rockies every week... delicious Palisade Peaches and farm-fresh produce, from now through at least Labor Day.
3) Wyoming is our home. We hire local people to assist at our stands in each town. So the income from our stands stays in Wyoming communities...supporting Wyoming families and Wyoming jobs! :-)
Anybody who has tried peaches from Colorado's Western Slope knows what a true peach tastes like. And our peaches are the BEST of them all. Find out why here.

Each week during peach season (August-September), we drive from Glenrock, Wyoming down to Palisade/Grand Junction, Colorado and pick up cases of the sweetest juiciest peaches you've ever tasted and bring them back to our neighbors in Wyoming. And while we're there, we gather a veritable cornucopia of seasonal fresh fruits and veggies and bring them back for our friends and neighbors.